Arhivă articole : Jury
Silvain Gire
ARTE Radio
ARTE Radio was created in Paris in 2002 by the European Cultural TV channel ARTE. A very unique project, arteradio.com is now a creative reference for radios worldwide and a "school of sound" for young producers.
A web radio on demand, ARTE Radio.com only produces original creations (features, dramas, short pieces) with no format, no commentary and no music. Based on the emotional qualities of sound, these audio clips are carefully crafted to play as a direct address to the listener. They build a narrative about intimate or social issues. They are sound postcards or poetic pieces, features or dramas, political satires or plain silly stuff.
Beginners or professionals alike, the authors record and edit their pieces under supervision by the ARTE Radio team. Every author is paid, and all 2000 creations can be listened to or downloaded freely from the website. They are distributed under Creative Commons through podcasts, our mobile apps, our SoundCloud, community radios, media partners or blogs.
A small project of three employees, ARTE Radio has won major international awards including Prix Italia for best radio drama and Prix Europa 4 times for best drama, best documentary and best online feature. Coproducing pieces with the BBC, Deutschland Radio or NHK, ARTE Radio also produces web series (New York Minute), conducts workshops for professionals and collective listening sessions around the world.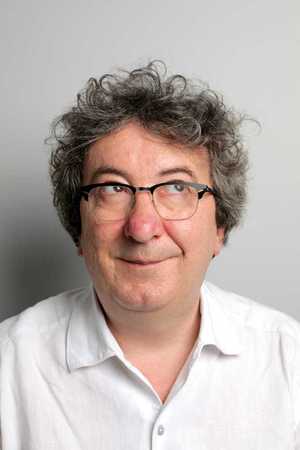 Silvain Gire (born 1964), a writer and a journalist, is the co-founder and editor-in-chief of ARTE Radio [arteradio.com]. He started working in 1990 for France-Culture, the French public cultural radio, where he produced shows about cultural or intimate issues while playing Public Enemy and Joy Division records. He joined the European television ARTE in 1994 to work in communication, until he was asked to create a creative radio online. He founded arteradio.com in 2002 with young sound engineer Christophe Rault. ARTE Radio introduced podcast in France and has played a major role in making radio creation relevant again. A web radio on demand, it only produces original creations (features, dramas, short pieces) with no format and no commentary. ARTE Radio has crafted new ways of listening for the young generation and has won many international awards for its creations.
Silvain Gire has published a collection of short stories "Johnny est mort" (Le Seuil) in 2002, and he still hopes to write another book someday.
Silvain Gire
Responsable éditorial
s-gire@artefrance.fr
+ 33 (0)1 55 00 70 54
ARTE Radio/ARTE France
8, rue Marceau
92785 Issy-les-Moulineaux
soundcloud.com/arte-radio-1
facebook.com/ARTERadio
twitter.com/ARTE_Radio